CALLING BRAWLERS IN TORONTO
ARE YOU READY FOR THE ULTIMATE IN LIVE BATTLE ACTION?
THE FIRST-EVER BAKUGAN ULTIMATE BATTLE TOUR IS COMING TO YOU ON JUNE 13-14 at VAUGHAN MILLS SHOPPING CENTER!
You've seen it on TV. You've battled with your friends. Now the Bakugan Ultimate Battle Tour is coming to a city near you!
THIS IS YOUR CALL TO BRAWL!
Don't miss this chance to get tips from Battle Masters, learn new strategies and take part in high stakes competition! Gather your friends, warn your enemies and get ready to become an Ultimate Bakugan Battle Brawler!
The Bakugan Ultimate Battle Tour is hitting the road June 13th, visiting 22 cities in 22 weeks across the U.S. and Canada.
CAN YOU HANDLE THE ACTION?
Brush up on battle basics with Bakugan's Master Trainer in the Bakugan Training Arena.
Move to the Guided Play Zone where you will battle and get coaching from Bakugan's team of official Battle Master Experts.
Brawl in the Free Play Zone where you can show off you're new battle skills.
Finish up at the Tour Check Out Zone where all brawlers who have completed training will be officially certified as "Ultimate Brawlers" and be eligible for great prizes!
Here's what you need to know:
Admission is free.
After you register and are brought into the first activity zone, your training & battle will take between 40-60 minutes.
All events happen each Saturday and Sunday between 11am - 5pm. We're expecting to see a lot of you at the events, so be prepared to have to wait in line!
SEE YOU THERE!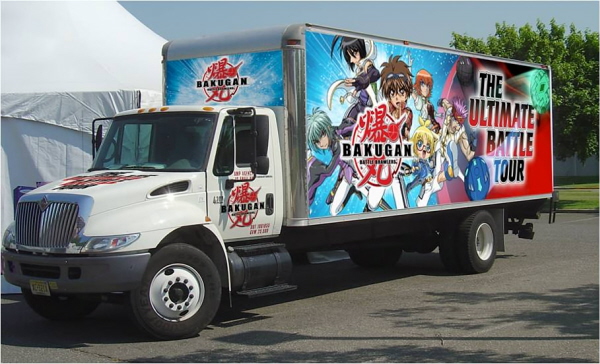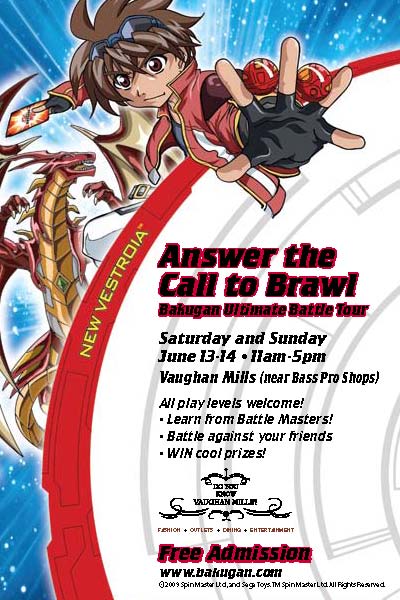 Bakugan Ultimate Battle Tour dates and locations: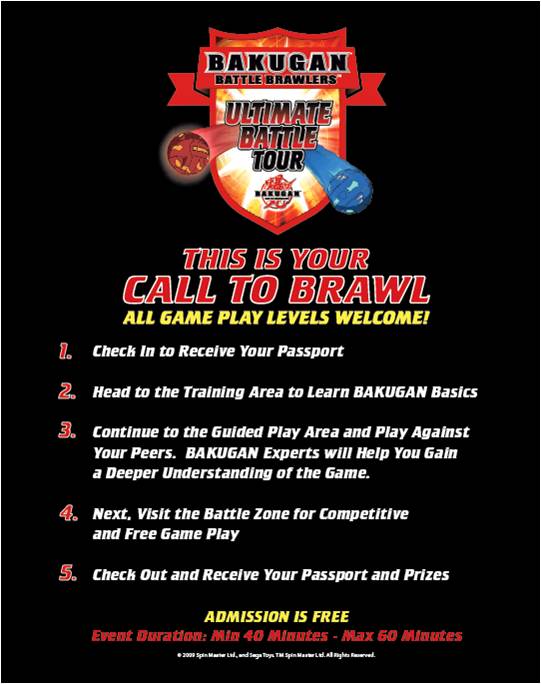 Toronto, ON
June 13th and 14th
Vaughan Mills Shopping Centre
Directly in front of Bass Pro
1 Bass Pro Mills Dr.
Calgary, AB
June 20th and 21st
Sunridge Mall
2525 36 Street NE
Edmonton, AB
June 27th and 28th
West Edmonton Mall
1755, 8882 170 St.
Surrey, BC
July 4th and 5th
Guildford Town Centre
2695 Guildford Town Centre
Tacoma, WA
July 11th and 12th
Tacoma Mall
4502 S Steele St.
Orange County, CA
July 18th and 19th
Block at Orange
20 City Boulevard West
San Diego, CA
July 23rd and 24th
Comic-con International Convention
San Diego Convention Center
111 West Harbor Drive
Tempe, AZ
August 1st and 2nd
Arizona Mills Mall
5000 Arizona Mills Circle
Hurst, TX
August 8th and 9th
North East Mall
1101 Melbourne St.
Houston, TX
August 15th and 16th
The Galleria
5085 Westheimer Rd.
Hazlewood, MO
August 22nd and 23rd
St. Louis Mall
5555 St. Louis Mills Blvd.
St. Paul, MN
August 29th and 30th
Maplewood Mall
3001 White Bear Ave N.
Orland Park, IL
September 5th and 6th
Orland Square Mall
288 Orland Square
Ann Arbor, MI
September 12th and 13th
Briarwood Mall
100 Briarwood Circle
Toronto, ON
September 19th and 20th
Fairview Mall
1800 Sheppard Ave. East
Laval, QC
September 26th and 27th
Carrefour Laval
3003 Boul. Le Carrefour
Nashua, NH
October 3rd and 4th
Pheasant Lane Mall
310 Daniel Webster Highway
Lake Grove, NY
October 10th and 11th
Smith Haven Mall
313 Smith Haven Mall
King of Prussia, PA
October 17th and 18th
King of Prussia Mall
160 North Gulph Road
Gaithersburg, MD
October 24th and 25th
Lakeforest Mall
701 Russell Avenue
Buford, GA
October 31st and November 1st
Mall of Georgia
3333 Buford Drive
Port Richey, FL
November 7th and 8th
Gulf View Square Mall
9409 Us Highway 19